Thursday 14 May, 5:30 pm
Anne Fellner (US/CH)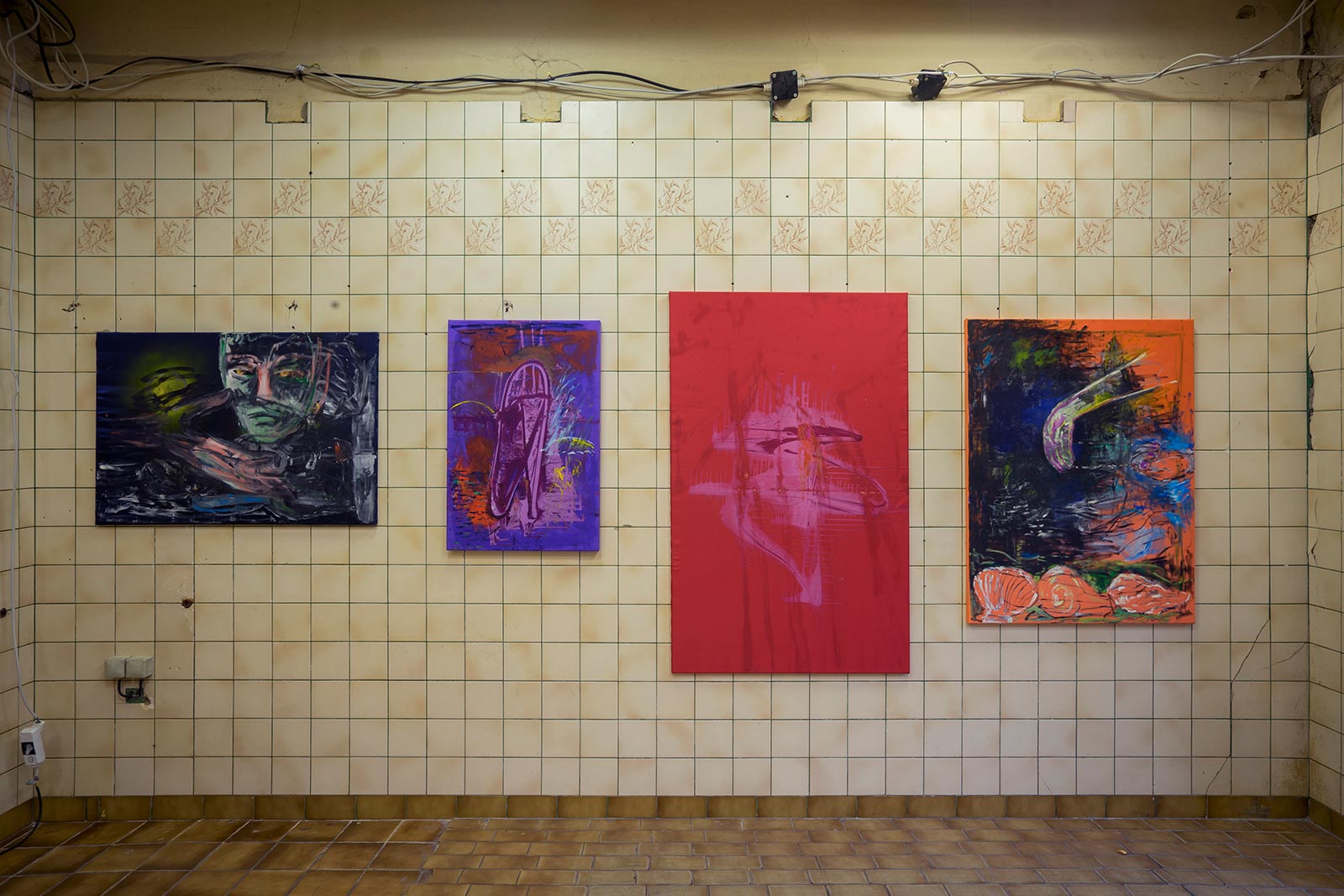 Installation view Anne Fellner –Take My Face, Liszt project space, Berlin, 2019
For Art Taaalkssss Zurich and Berlin based Swiss-American artist Anne Fellner will discuss some recent solo exhibitions, including Take My Face that took place in July 2019 at Liszt project space in Berlin, and Signs and Portents, a project initially scheduled to open in May 2020 at Damien & The Love Guru in Brussels, which has now been postponed. Both exhibitions stem from a recent body of work she began in 2018, where she paints on unprimed synthetic fabrics. As a result, the paints and enamels she uses are staining and permeating the surfaces of paintings which include imagery from different literary and cinematic sources.
Anne Fellner's narratively expressive paintings navigate a broad field of different styles and materials. In recent work she has replaced traditional canvas with multi-colored synthetic fabrics, allowing their hues to set the mood for each painting. These half-remembered, half-imagined scenes constitute of mash-ups of raw visual material such as hands, faces and objects. Her paintings are usually displayed on canvases of varying sizes and motifs, and hung in close succession, creating jumps and cuts in the filmlike sequence of the depicted scenes.
Anne Fellner (born in New York City) graduated from the Academy of Visual Arts in Leipzig, where she studied in the class of Astrid Klein. Her work was recently exhibited at Pogo Bar, KW in Berlin (2019); stadium, Berlin (2018); Tonus, Paris (2017); Suicidal Oil Piglet, Melbourne (2017); and with Centre for Style at the 9. Berlin Biennale (2016). She is currently participating in the Berlin Program for Artists.