IN MEMORY OF MARION VON OSTEN
As part of the symposium series Womxn in the Arts and Leadership
Master symposium
17 – 18 March 2021
Contributions by Maria Thereza Alves, Ursula Biemann, Regina Bittner, Barbara Casavecchia, Anja Kirschner, Kapwani Kiwanga, Maria Lind, Otobong Nkanga, Lydia Ourahmane and Myriam Amroun, Filipa Ramos, Kerstin Stakemeier, as well as Yvonne Volkart and Peter Spillmann
Moderated by Chus Martínez and Quinn Latimer
Research Associate: Marion Ritzmann
Press and communication: Anna Francke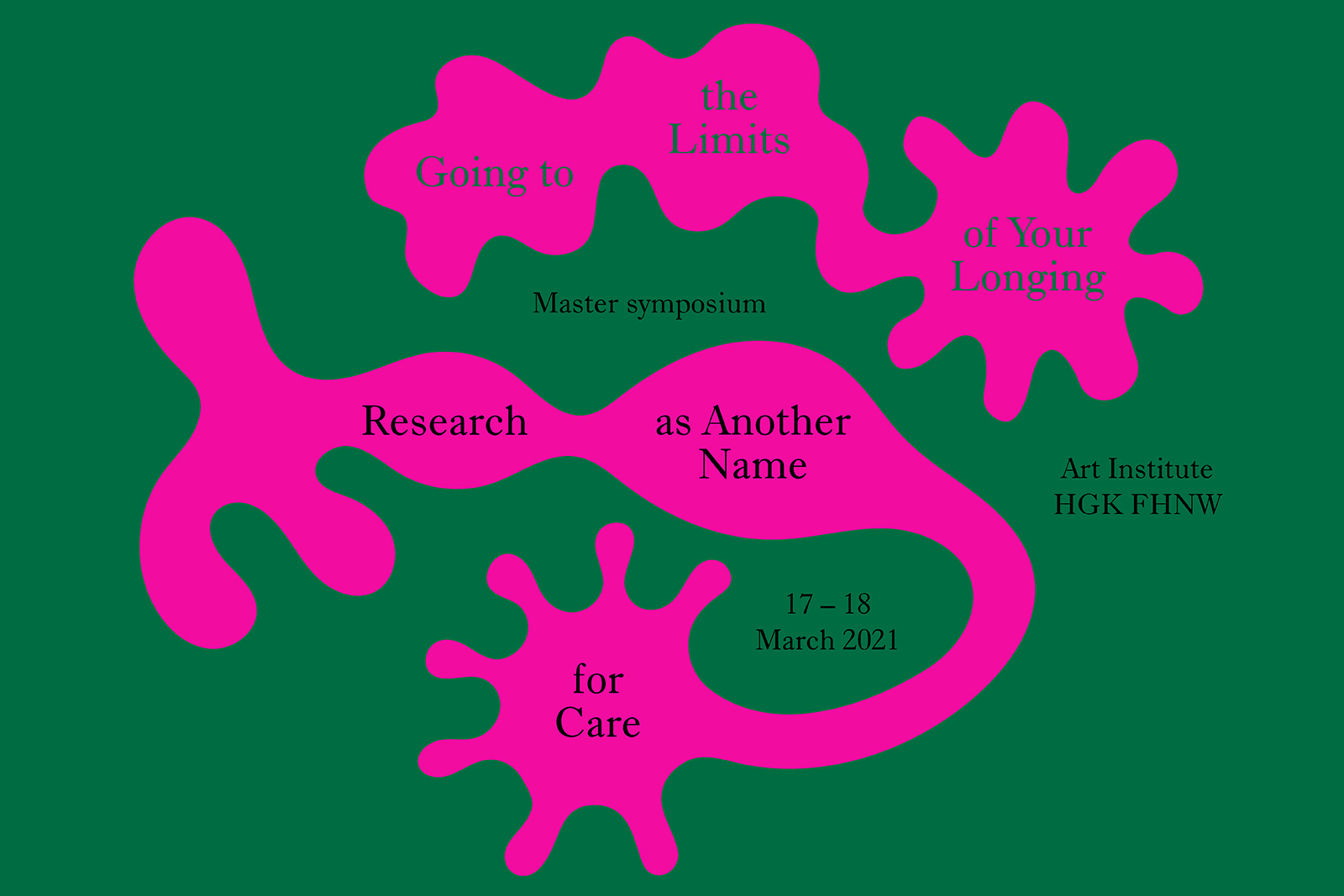 Once upon a time, or just a couple of decades ago, womxn artists from various and diverging geographies began to query and study the gap that has traditionally existed between artistic and non-artistic labor. As artistic labor came to be understood as more representative of society's functioning as a whole, new questions concerning the political dimensions of art and the role of the artist in contemporary society came to life. Research has often been the term applied to the act of inquiring into the postcolonial past (and neocolonial present), an inquiry whose very substance gives voice to the need to revise the fundaments of our unachieved and fragile democracies, their languages, tools, forms of violence, and myriad legacies.
Going to the Limits of Your Longing, Research as Another Name for Care, the spring 2021 Master symposium at Art Institute HGK FHNW, in Basel, will be devoted to ideas and forms of artistic research that center art as a practice in service of the social. With this symposium we will revisit certain moments in our recent history and present of researching, producing, and exhibiting art in the name of such beliefs, namely social justice. To that end, this gathering will be dedicated to the memory of Marion von Osten, the artist, curator, researcher, writer, and teacher whose curatorial, theoretical, and altogether empathic approaches to the medium of exhibition-making revolved around artistic research devoted to the collective.
In von Osten's memory, and under her exemplary influence, we will examine the moments when exhibitions became filled with archives, with documents of testimonies and documentaries of testifying moving images. Institutions suddenly saw the need to create collective collections—like the Former West curatorial research project, for example. It was the beginning of a transformation that, since then, has undergone many turns and many faces, but that remains at the core of understanding art as a practice that serves the social and all the forms of justice (and its opposite) that enumerate it.